Hail brothers! Where do the roots of 1349 come from? Why "1349"?
It was Ravn's idea back in the day to name the band after the year the bubonic plague hit Norway and took the lives of 2/3rds of it's population. It was chosen because it's suitable link to our music's raw, brutal nature.
First of all, we know the perfect works you've done so far. So what do we expect in the future about 1349?
Aural Hellfire as we like to put it. That is what we do and what we aim at continue doing, in our way. New impulses are interesting though, as we strive to be at the top of our game. We always try to be creative and to bring new dimensions to what already is done, however: It will be some very fierce, brutal elements on the next album too, that's for sure.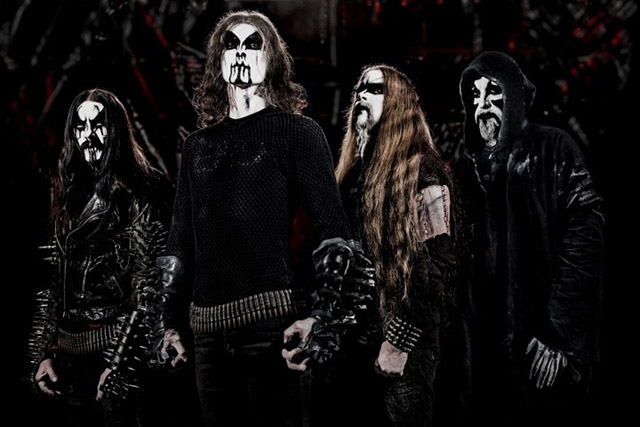 What's the story of your last EP: "Dodskamp" and its cover? And what was the contact with the government about this?
We were asked by the a Norwegian organisation called Innovation Norway if we'd be interested in a co-operation with them + Munch museum. The angle was to be one out of 4 artists, representing a musical genre in combination with (Norwegian painter) Edvard Munch's works. I chose to work with the painting «Dødskamp» (which translates to «Death struggle») and wrote sort of a soundtrack to this macabre, brilliant piece of art.
What is your approach to criticism and reactions?
They can be necessary and might contribute to something new or improvement. It comes down to the receiver a lot, in the event that one is open to criticism given. I feel it's generally important to be a good listener, even though some are just in it for the hell of trolling in the century we live in. There'll always by polarized opinions on what we do- we are aware of that. Personally, I tend to try to be objective to feedback. On the other hand: It might also depend a lot on the source and motives behind critics given. In the end, it is of most importance that we are satisfied and contempt with what we do.
Norway is the "Castle of Black Metal"! What do you think about Norwegian Black Metal and its future?
I haven't really followed the scene well enough lately to give an accurate status-report on that. There are some interesting things here and there, so what I can say is that the genre as such seems to be very much vital, very alive still. The historic portfolio speaks volumes for itself, but if new bands can contribute to developing & pushing it forward, I think that's awesome. Every now & then something interesting emerges, so the future seems positive in that aspect.
Are there any groups and names you like in the Norwegian school?
Many of the old ones, obviously. As mentioned, I don't really follow the scene on a day-to-day basis, but for instance you have bands suchs as Dødheimsgard (DHG) that are pushing boundaries. I must also add that I really liked Immortal's last album, thought that had a great sting to it that the musical/metal world is in the need of nowadays.
How important is "Lucifer" to your music?
I like to think of the question at hand as sort of a source, a source that we extract tonal shadows from to incorporate in our art. A dark endless sea of darkness and eerie vibrations in which the mind can wallow in, an endless abstract silent black void. Only here can the other side, another dimension be reached and entangle ones spirts with musical artifacts… Which in turn gives way to our art.
Thank you very much for your answers. Finally, what would you like to say to your Turkish fans and Extreminal family?
There will be masses, congregations soon… rituals if you will. See you there.