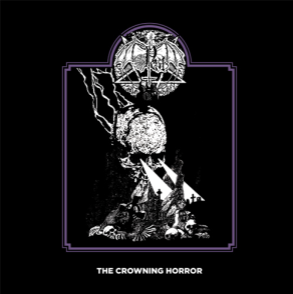 Agonia Records - 2013 - Sweden

The Swedes PEST are already since 1997 on dark Metal pathes on the road. They recently honoured un with their latest cd "The Crowning Horror". It is distributed via Agoia Records/Soulfood.
After a calm instrumental intro "The Funeral Hours" PEST show with "A Face Obscured By Death" what they are made of! Old School Black Metal and that not too small. Black Black Metal sound frameworks are shrouded by Black Metlal riffs of the old days. You feel immediately relegated into the good old days.But, who now assumes that this is a nostalgic cd is seriously mistaken. Songs like "Volcanic Eyes" show a different side of the band. Now, they come in essentally faster and more diversified, but still play Black Metal. This shows the great range of PEST. Which is showcased multi-variant and diversified. The all in all ten songs reflect the very own character of the band. Pitch-black and nevertheless raw and untamed like a volcane just before blasting the gents show here what Black Metal is. " Worlds of ice and misanthropy develop which imply hopelessness and necerending hate. "The Crowning Horror" shows the individual musical world of PEST. The more unappeasable hunger of darkness and hardness is skilful packed into notes. You hear here with each note that grown musicians were at work who know their craft. I can ony recommend "The Crowning Horror!!!!