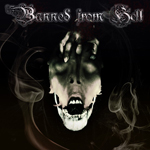 Self-released - 2012 - Italy

Last year the Italians BANNED FROM HELL released their debut cd "Nightmare" in in-house production.

The intro "Overture" starts very spheric and gets along quite without any vocals. The listener is temporary abducted in a dreamworld which is light and broad. But, at the following song "Hate" BANNED FROM HELL show what they really want musically. You can hear here a bizarre mixture of Melodic Death Metal and Thrash Metal. The extremely arbitrary vocals make "Nightmare" however to a very extraordinary production. Dark growls mingle with nagging vocals which remind of CRADLE OF FILTH and similar bands. This seemingly disorganized musical chaos sounds however pretty good. The very extreme, partially very weird riffs as well as synthesizer insertions which remind me of a horror movie, do one last thing. By the unmotivated change of tempi receives "Nightmare" additional innovation and variety. Very experimental and nevertheless hard this cd literally sparkles over of creativity. BANNED FROM HELL are here successful in creating a very experimental album which definitely goes forwards. A must for all fans of extreme, experimental Metal!!!