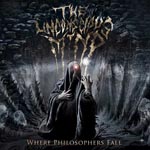 Self-released - 2012 - Canada

Some time ago the Canadians THE UNCONSCIOUS MIND put their full-length cd "Where Philosophers Fall" on the Metal market.

THE UNCONSCIOUS MIND play Black Metal. Very technical played riffs which come across hard and relentless. While adding of several Death Metal elements thus accrues the modern musical alignment of the band. THE UNCONSCIOUS MIND thereby never forget the melodic aspect. By the weaving in of melodic parts which are supportde by keyboards the production is a bit relaxed without sounding thereby too soft. The hard-bitten, extremely fast doubleblast drumming supports the aggressiveness of "Where Philosophers Fall" and gives the cd additional coldness. By the skillful mixture of melody and severity develop all in all ten songs full of beauty and hate. Pitch-black sound frameworks which take the listener into an unreal world of darkness and hopelessness of which there is no escape. The distinctive growls which also can be once nagging give additional main points. Technical impeccable and very ambitious recorded I can only recommend THE UNCONSCIOUS MIND to each Black / Death Metal fan!!!