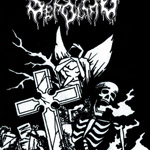 Self-released - 2012 - Italy

The Italians SEPOLCRO put in March 2013 their demo "Festering Evocation" in in-house production on the Metal scene.

The gents play Old School Death Metal. Raw and coarse songs which are conscious kept simple in order not to blur the nativeness. Typical Death Metal riffs which are aggressive and dark mingle with a forceful drumming to all in all four songs. Thereby the riffs can also once be halting or melodic. SEPOLCRO nevertheless loose sight of their musical goal. The demo receives additional energy and is relaxed a little bit by small loosening ups. The dark vocals do one last thing to reinforce hardness and darkness. Productional conscious kept simple SEPOLCRO are successful to turn in a successful start with their demo "Festering Evocation". It shows the large potential the band has. I am curious what we will hear of SEPOLCRO in the future!!!