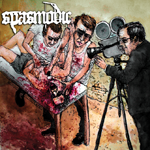 Unexploded Records - 2013 - Sweden

The Swedes SPASMODIC will release their latest trick in March via Unexploded Records. It is called "Mondo Illustrated".

After a short movie sample it immediately goes flat out! You can hear here Death Metal of the fast kind. The all in all thirteen songs hit aggressive and incredible forceful like grenades into the convolution of the listeners' brain. Typical Death Metal riffs and a little short of inhuman drumming make "Mondo Illustrated" to a highspeed train . By the addition of powerful bass lines develop extremely brute and aggressive songs which can be painful. The listener is lead from one musical rise to another like on a roller coaster ride. Thereby the neck muscles rotate in continious running! The variations in speed give the sympathetic consumer also no real relaxation. Distinctive growls which end now and then in clicks give "Mondo Illustrated" additional power and identity. You need a lot of staying power. Production-wise there's also nothing to complain. No wonder, because no less a figure than Tommy Tägtren mixed the album. The gents catch musical backstop at two songs ("Wanda La Put" and "Ugly Sad") in terms of Emperor Magus Caligula what makes the whole thing additionally interesting. I can only recommend SPASMODIC!!!