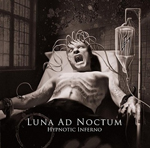 Massacre Records - 2013 - Poland

The Poles LUNA AD NOCTUM are no newcomer anymore. They are already since 1998 musically on the road. Their latest opus is called "Hypnotic Inferno" and is distributed via Massacre Records.

The gents prsent us Black Metal of the more modern kind. Very technial played riffs which are framed by pitch-black Black Metal base frames. Relaxed by interspersed keyboard passages now and then which brighten up the depressive atmosphere a bit. Thereby LUNA AD NOCTUM never leave the melodic Metal path. The production is given sufficient severity by powerful doubleblast drumming and some Death Metal borrowings. The nagging vocals of bassist and vocalist Adrian Nefarious are amazing diversified and support the aggressive, icy atmosphere of "Hypnotic Inferno". Thereby LUNA AD NOCTUM accelerate from the first to the last note in the mid tempo area. Production-wise you can distinctively hear here that grown musicians were at work. The gents manage it to transfer the Black Metal into the year 2013 without thereby loosing their sovereignity. Fans of modern black Metal can grab here unhesitatingly!!!