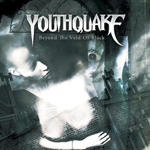 WormHoleDeath Production - 2012 - Japan

You actually need make no big words about YOUTHQUAKE from Japan. Since 1990 musically active they honour the sympathetic listener with "Beyond The Void Of Black" which will be re -released in 2013 via WormHoleDeath Production.

The veterans play modern Thrash Metal. Spiced with some melodic Death Metal speckles which give rise to a very independent sound. Thereby "Beyond The Void Of Black" comes in fresh and unconsumed. YOUTHQUAKE come without big musically folderol straight and without detours to the target. Despite of the use of melodies the production is nevertheless hard and has the necessary punch. Melodic riffs relax the songs a bit and give them sustainability. By the use of different tempi "Beyond The Void Of Black" receives variety. The all in all nine songs are all in all located in the upper mid tempo area. A very innovative cd which goes definitely forwards.YOUTHQUAKE play very dedicated and professional. You hear here that no newcomers, but grown musicians were at work! Who is not at all reluctant of mixtures in style whom I can only recommend YOUTHQUAKE. It's worth it for sure!!!