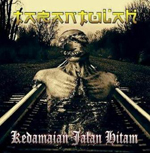 Trooper Art Regime Distro - 2012 - Malaysia

Some time ago I received a new opus of the busy gents of TARANTULAH from Malaysia..Their most recent demo is called "Kadamaian Jalan Hitam" and is distributed by Trooper Art Regime Distro.

The intro alone gives a foretaste of what will come next. The listener is offered a potpourri of various styles of music. Here are mixed Punk,Thash Metal an Old School Black Metal to a very special mixture. The all in all six songs tear forwards raw and impetuous. The gents move thereby musically in the mid tempo area. The production remains in steady motion by the use of the different styles of music and never gets boring. Very simple and nevertheless effective riffs and arrangements. The originality is reinforced by the archaic production. An overall concept which is extremely worth hearing originates. "Kadamaian Jalan Hitam" got a very interesting demo which is worth to be listened to!! I am sure we will hear a lot more in the future of TARANTULAH.