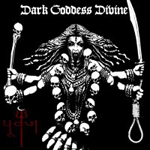 Sonic Blast Media - 2013 - Sonic Blast Media

The Indian 1-man project PURVAJA is since 2011 musically on the way. In March 2013 his latest opus "Dark Goddess Divine" will be released via Sonic Blast Media.

Here it is about a very interesting cd. "Dark Goddess Divine" unifies Black Metal tones with traditional Indian sounds. Dark Black Metal frameworks are relaxed and supported by melodic little short of spheric folkloric sounds. The results are at this unusual mixture very independent songs which quite differentiate and set apart them positivey from the normal Black Metal mishmash. The production is given the necessary hardness by severe doubleblast drum thunderstorm. The distinctive growls support aggressiveness and darkness. A very intense cd for which you need time for listening. The lyrics deal with Hinduism and its Gods. Because of this "Dark Goddess Divine" differs already from most of the other releases. PURJA managed here to create a very extraordinary opus in the Black Metal area. Who is into Black Metal and Vedic Metal should take hold here unhesitatingly. For all others is "Dark Goddess Divine" a good opportunity to check out something completely different musically. It's worth it!!!