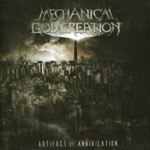 WormHoleDeath Records - 2013 - Italy

The Italians MECHANICAL GOD CREATION are heard from again. Namely in the form of their new cd "Artifact Of Annihilation" which is distributed via WormHoleDeath Records.

What can I expect here? Modern Death Metal. Played very technical "Artifact Of Annihilation" however looses at no time its bite. Severe doubleblast drumming comes into play a deadly symbiosis with Melodic Death Metal base frames. Thereby MECHANICAL GOD CREATION take away the foot from the accelerator now and then which givs the songs a bit relaxation without thereby seeming too soft. Melodic riffs straighten out the aggressive undertone and give "Artifact Of Annihilation" a musical face. MECHANICAL GOD CREATION act thereby very imaginative and also diversified. Technically adept recorded there is nothing wrong with the production. I can only recommend MECHANICAL GOD CREATION!!!