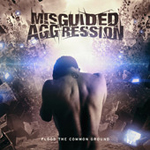 Last Man Standing // Year Of The Sun - 2011 - Canada

The Canadians MISGUIDED AGGRESSION have released in 2011 with "Flood The Common Ground" their already second full-length cd.

MESUGGAH and co. say here hello from the first to the last tone. After an intro in form of a sound collage it directly goes flat out with "Winter Soldier". Forceful bass lines give a rendezvous with Nu Metal / Metalcore sound structures. Thereof develops powerful songs full of hardness and aggressivity. Growls which pierce marrow and boe still reinforce this impression. "Flood The Common Ground" goes definitely forwards and sticks in the auditory canals. Soild riffs round off the positive general impression. The listener knows what he gets here. Solid home cooking without any experiments which make a lasting impression. MISGUIDED AGGRESSION did here everything right. Technical proper and ambitious the gents completely serve the sympathetic listener. It's a must for fans of this music!!!!