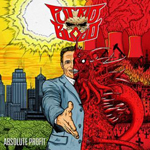 Miner Recordings - 2012 - Serbia

PUTRID BLOOD are from Serbia. Recently they released their album "Absolute Profit" via Miner Recordings.

PUTRID BLOOD play a mixture of Thrash Metal with Hardcore and Death Metal influences. Solid Thrash Metal frameworks are processed with all kinds of other Metal genres to an independent musical identity. Here is strongly stirred in some musical genre soup tureens. Thereof develops the typical sound of PUTRID BLOOD. Energetic songs which are going forwards and carry the listener along. Thrash Metal riffs woven in here and there give the songs additional freshness and individuality. Hardcore typical bawling choirs reinforce the hardness and authenticity of the production. By the variable use of growls and clean vocals receives "Absolute Profit" more variety. By the use of different tempi also within a song is given more movement to "Absolute Profit". It shows the wealth of variants of the band. "Absolute Profit" is a very diversified and full of ideas cd which is however not too fussy. Who doesn't adhere stubborn to one musical genre whom be entrusted "Absolute Profit" warmly.