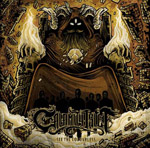 Eigenproduktion - 2012 - Portugal

Some weeks ago I took notice of a band from Madeira, Portugal. There is talk of CALAMITY ISLET which put in September 2012 their EP "See The Colourless" on the market.

Calm guitar sounds which generate a very spheric atmosphere sound at the the opener "Limelight Upon Misery". You as a listener are taken along in a dreamworld. But, it is soon over with the quietness. Melodic Death Metal is now the topic. The melodic riffs outstanding fit in the Death Metal sound frameworks the single songs. Also vocal-wide CALAMITY ISLET succeeds in managing the narrow balancing act between innovation and insignificance. The hardness of the music is well worked out by the use of growls. On the other hand the clean vocals emphasize very well the melodic claim of the band. This mixture results in the sound of CALAMITY ISLET. Here is offered well home cooking. Fans of Melodic Death Metal can grab here regardless!!!