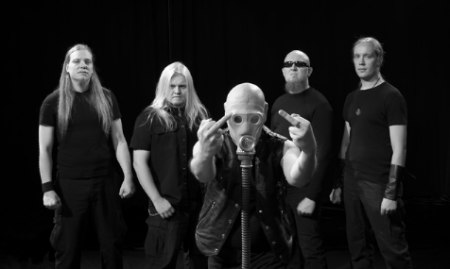 Finnish extreme metallers IMPALED NAZARENE have issued the following update:



"We have decided to re-sign with Osmose Productions once again. It was actually very easy decision to make: We are celebrating 20 years of IMPALED NAZARENE on November 2010. All our full-length albums have come out on Osmose and basically we felt no other label should have our anniversary album.





"We will enter Hellhole Studio (Helsinki) in late summer to record our 11th full-length album. Album title [to be announced].





"We have been busy working on new songs, we have four ready.





"We have two shows left (April 10th in Helsinki, Finland and May 1st in Switzerland) and after them we stop playing shows till new album is out. We will fully concentrate on making our strongest album to date.





"Not only we will have new album out on November 2010.





"We will play our 20th anniversary show in Kuopio, the most metal city in Finland. This show will be on 20th of November at Henry's Pub club. We will FINALLY record live DVD there.





"We chose Kuopio and Henry's Pub simply because Kuopio has the best audience in Finland and Henry's Pub is the best club in Finland. Yes it is small but perfect for live DVD recording. Ticket price (and how and when to obtain them) and more info will be announced later."