Pulverised Records announced the signing of Malaysian old-school Death Metallers LAVATORY!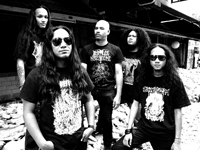 With this Death Metall hellspawn in existence since 2010, LAVATORY recently released a five song EP entitled "Transgression" which firmly showcased the band's penchant for raw and disgusting Death Metal in the veins of Entombed, Carcass and Dismember, etc. Plans are already underway to work on the LAVATORY's debut full-length album, promising to be the band's most defining piece of retch-crushing Death Metal yet.
States LAVATORY throat-slasher Muntah Ke Darah on the signing: "Well it's a dream come true for LAVATORY to sign with Pulverised as we are the first Malaysian band offered with this opportunity. Our next step after releasing a full-length with Pulverised Record is to plant the Malaysia and the Asia map into Europe and America territories. We hope our debut will open up the worldwide Metalheads' eyes on Asia."
Pulverised Records label manager Roy Yeo further commented: "LAVATORY caught us by complete surprise when we first heard them, and truth be told that there really isn't much bands in the South East Asia region paying tribute to the elder statesmen of Swedish Death Metal such as Entombed and Dismember! This sinister alliance between LAVATORY and Pulverised Records will prove to be an interesting yet lethal one indeed. We cannot wait to hear how they will pick up from where they left off with the "Transgression" EP, but something tells me that the new full-length album is going to be a mixture of sick, crushing and rotten Death Metal coming our way!"