A tribute album to David Gold — a founding member of the Ontario, Canada-based black and doom metal band WOODS OF YPRES, who was killed in December in a car accident near Barrie, Ontario — will tentatively be released in late August or early September. The CD's cover artwork was created by Jason Hicks.
The project's mastermind, Steph LeDrew, previously stated about the collection: "On December 21, the world lost WOODS OF YPRES founder/frontman David Gold. Not only was the entire local metal community but the international metal family mourned the loss of such a brilliant soul. As a thank you and farewell to WOODS OF YPRES, I reached out to those who were influenced by WOODS and David, so join me in creating a musical salute to one of the greatest doom metal bands to unleash onto the underground metal scene."
Arists and songs featured on the album are as follows:
* NOVEMBERS DOOM - "Wet Leather"
* GYPSY CHIEF GOLIATH - "Suicide Cargoload"
* ECLIPSE ETERNAL - "Crossing The 45th Parallel"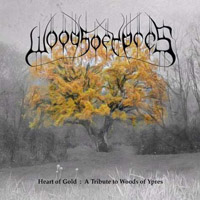 * EMPYREAN PLAGUE - "Shedding The Deadwood"
* PANZERFAUST - "A Meeting Place And Time"
* PAGAN RITUAL - "The Shams Of Optimism"
* AMARANTH - "Allure Of The Earth"
* ALBIREON - "Retrosleep In The Morning Calm"
* ANEMIC - "The Sun Was In My Eyes: Part Doom"
* BEGOTTEN - "The Sea Of Immeasureable Loss"
* RELIQUIS - "Career Suicide"
* JOEL VIOLETTE and RAE AMITAY - "Silver"
* CANOPY - "Falling Apart"
* UNBOWED - "Your Ontario Town Is A Burial Ground"
* DEATHMARCH - "Northern Cold"
* KUHRZARTH - "Finality"
* THE GOV' AND FRIENDS - "Intro: The Looming Of Dust In The Dark"
* THE BEAR HUNTERS - "Thrill Of The Struggle"
* SVARTE KRAKE - "You Were The Light"
* JUSTIN BENDER (INTO ETERNITY) - "Trillium: The 3rd Of Three Winters"