Comments you take after "The Formation of Damnation" album are very positive as far as i see. You take the best album award from "Metal Hammer Golden Gods". Would you tell us about it?
Eric Peterson: "First of all we were not even in the running in that category, to be in that category you had to be on the Download Festival. At the last minute we got put on the festival. We have never played a UK festival like that. By playing the festival we were put in the category for the award. We crushed Download and then we won the award. We were surprised, of course we knew we have a great record, and the competition was stiff, but we were glad to come out on top."

I heard that you are preparing to release new album, when will it release?
"We are currently working on material and we are hoping to have it out for a fall release, but nothing is set in stone except that it will be heavy mother fucker."

Your last album "The Formation of Damnation" has been released from Nuclear Blast Records. Besides this, you released a show DVD "Live at Eindhoven '87" from Prosthetic Records. Do only DVD released From Prosthetic Records or do you have any plan to change your label?
"We have a record deal with Nuclear Blast and we did not want to put all of our eggs in one basket so we released the DVD with prosthetic."


You choosed your Eindhoven scene in 1987 for your DVD release. What is the ipmortance of that show for you?
"We released the full audio version of live in Eindhoven, this show was special because it was our first show outside of the United States and we were a young band and Eindhoven welcomed us with open arms. It was our second European show and our first European festival.

Do you have any plan to release any documentary or a novel for Testament fans?
"Although we do have a lot of archives I am sure it will take a lot of work. It just depends on the time that we have and I am sure at one point that will happen."

As an old and great thrash metal band, what do you think about; In 80's and 90's in terms of Music related peoples, market and audience there is more different, more open minded mass audience. What is current situation? Which term do you express your music better?
"As the world turns"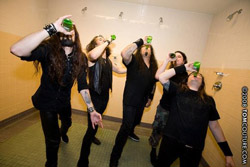 You released numbers of albums, so which one is the best for you and why?
"They are all my favorites for different reasons. Sonically, production, and maturity wise I would have to say the Gathering due to the modern consistency and heaviness."

Maybe it will be a personal question but what about your life? How the problems as a result of global warming, political events, racism, religion affects your music and your life?
"Heavy metal is about life's struggles, we are a very troubling race and a very hopeful race. There is a lot of bull shit going on. Technology is crazy maybe it will kill us, maybe it won't. In saying that, that is how it affects us."

What was the most interesting happening the band experienced?
"Although a lot of bands go to Asia now, there was a time when going to Japan wasn't so normal Japan was not as Westernized as it is now. It was very interesting and very special, and when we first went there it was a trip"
You played many times in Turkey, what do you think about Turkey? Attendance how? What did you observe in concert?
"Of all the Muslim countries, Turkey seems to be the most relaxed one. Turkey is one of Testament's favorite places to play. The fans and the people we do business with are like family to us. We especially like the Turkish coffee and late night bambi."

Thanks for interview? Do you have a message to your Turkish fans? Last words to say..
"We can't wait to see you again, and we will back next time with a new record. We will try to dedicate a song to Turkish history."

Thanks Tom Couture for the last two photos : www.tomcouture.com